---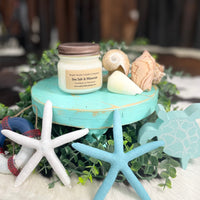 Our Sea Salt and Minerals Candle is handcrafted in Mississippi and smells awesome we combine numerous scents to make this. A refreshing blend of ocean breeze and apple peel with cool notes of blue lotus and eucalyptus and refreshing touches of sea botanicals and sandalwood. Mandarin Orange, Ocean Breeze, Apple Peel
Geranium, Cooling Eucalyptus, Blue Lotus, Soothing Sandalwood, Sea Botanicals, Salty Sea Air all combined are surely to take you to the seaside for some relaxation and enjoyment 

All of our Candles and melts are hand poured in small batches to ensure perfect scent to wax absorption. We use a all natural hemp wick coated with beeswax. Pairing that with 100% All natural organic soy wax gives you a safe vegan ECO friendly candle. We strive to create an highly fragrant, uniquely scented, high quality and affordable clean burning candle that burns longer. Soy wax compared to traditional paraffin wax is unsurpassed when it comes to safer cleaner burning candles. Traditional waxes are petroleum based and
derive from petroleum, coal or shale oil. Burning paraffin candles has been proven to release toxic and harmful fumes, which have been linked to asthma and lung cancer, and also contaminates your home. On the contrary Soy burns clean, you will also notice no sutting or black ring around the top of jar. Soy is 100% biodegradable, cleans up easy with warm soap and water. Burn time is 25 to 50 % longer than traditional candles if burned correctly.


Instructions for long lasting and clean burning candle.
It is important to burn the candle for at least one hour on initial lighting, to ensure you fully melt the wax on top of the jar. This will ensure a even burn for future use and will maximize the scent, wax pool should reach jar edge each time to prevent wax tunneling. keep your wick trimmed to 1/4 inch each time before lighting. never leave a lighted candle unattended and keep away from anything flammable. don't burn longer than four hours at a time, after this amount of time wax starts to evaporate from overheating.

As always thanks Ya'll for visiting our shop and spending some time with us, come back soon stop by the porch and sit a spell we can rock and have a chat.


Our Story and Mission
We devote a lot of time, heart and research into naming, crafting, labeling and marketing our products. It all started with just a dream to build a business that all products was handmade, thus keeping real craftsmanship alive.

In today's world everyone is in such a hurry, with the mindset of give me that and get it to me NOW! To some it doesn't matter if it is a quality product or how much time was invested in making something. If you are in the market for the cheapest made, fastest produced, lowest cost product with no desire for quality. There is a world full of those kinds of products out there at a cheaper price than ours.
But if you are looking for a quality made product from the best components and ingredients, a product that the maker used there heart, hands and mind to create and will remember making it and the customer that purchased that creation. We would love to welcome you into Rusty South's family of customers and friends.

We are a family based business, we started Rusty South in 2016 with what we thought was just a dream and a desire to keep craftsmanship alive, We wanted to build something from nothing. Although we started Rusty South from another handmade business that just focused on woodwork. This adventure was going to be a lot of hard work and much trial and error. We look back at how many changes we have made and things we have added since the beginning, all those changes made simply to improve our product to ensure that you the customer gets only the best product that we can produce.

And yes we actually use our products ourselves, we craft a lot of our products right here in our very own farm kitchen. We are believers in God, Love, Hard work and Honesty. Our goal is to bring you the best product possible. Today we still build quality furniture, but we have added such a wide variety of handcrafted products we think you will love,from our all natural soy wax candles and melts, goats milk soaps and lotions, sugar scrubs and skin care products right down to home decor, artwork and jewelry.

Let us put a little bit of our heart into your home!